Happy Birthday To Meeee! :) So yes…it has arrived…my quarter century accomplishment has been very fulfilling. I've learned a LOT in 25 years, but have a long way to go. I've held on to some childish loves and have learned some "adult" behavior as well. I'd like to recap my birthday weekend first, and then discuss my evolution second.
I had a pretty chill birthday weekend, which is how I wanted it: no fuss. I hung out with the fam most of the time. On Saturday, I went to my godparents' anniversary dinner at a nice Thai restaurant. Afterwards, my parents, Siobhan and I went to the Hard Rock to play poker (of course!) which was SO  much fun because we all played on the same table. Siobhan doesn't play poker so she just came to hang out. We stayed until 5am. I'm so proud of my parents for lasting that long! lol I lost 20 bucks after swinging up and down all night. Dad broke even and mom was up $150 until she lost it all and I think she ended up breaking even as well.
On Sunday, my actual birthday, Siobhan came over and surprised me with balloons. As silly as it sounds, it really made my day. I'm keeping the balloons in my room. :) I love Siobhan for doing that for me! My aunt, uncle and cousin came over later for a huge dinner with some awesome food that everyone helped prepare. Ricky called me from North Carolina where he's getting ready to start grad school. It was nice to know he remembered me, lol. Later that night, Renee went out with daddy and me to a nice reggae spot in Davie. I had a great time there. I'm so glad that Renee's in town this weekend! It was good to see her for my bday. After that, went home and fell asleep since a working girl has to be up at 8am. It really was a nice relaxing weekend…no complaints… I had all I could want! Family and friends!!!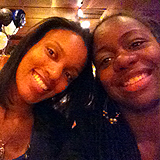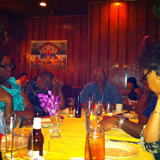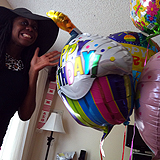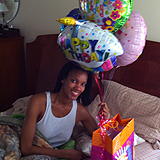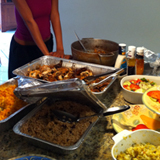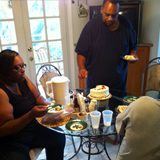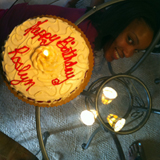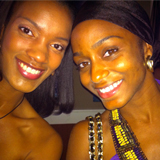 So, although I've grown up quite a bit over the years, there are a few things from my childhood that is proof of my youth. Don't laugh at this list, but these are some of the "childish" things that I can't seem to overcome.
Apple juice. My coworkers continue to make fun of me for ordering kiddie drinks instead of grown person drinks like beer and such. lol. It's all good! An apple a day…ya know the rest! :)
Macaroni and cheese. Nothing, and I mean NOTHING, beats a nice pan of baked mac n cheese! I'll even take the stove top kind. I love Italian food and leave it to me to find a favorite in the simplest dish of them all.  Outback Steakhouse has this WICKED dish from the kiddie menu. I mean, seriously…their cheese is from the sky or something because it is so creamy and delicious! I get it every time we go there… Yum!
Cartoons. Hey, guys can be over 30 and still play video games…So I see it just fine to be 25 and still watch cartoons. I love this animated penguin cartoon that I can't remember the name of…oh, and Spongebob, of course! I also love Nick At Nite reruns…Fresh Prince of Bel-Air, The Nanny, Family Matters…yes!!!! Can't get enough!
As for the things that are proof of my maturity, here's a MUCH more boring but satisfying list.
Paying bills. Umm…I don't know 'bout you, but this has got to be the most satisfying feeling in adult life (besides making the money itself). I struggled for sooo long trying to get my bills paid every month (phone bill, car payments, food, server bills, student loan, credit cards, etc…) but now that I'm working full time, it all comes so much easier. Sigh.
Working full time AND freelancing. First of all, I must say, I have the best job…seriously… I work with an awesome, creative team. My boss is the coolest. My projects are always interesting. Plus, I'm learning every single day… The pay is good, the hours are great. I never thought I'd enter the corporate world and actually *love* it. I still love what I'm doing every single day. Thankful for that still, 5 months into the job. Plus, I get to do some side projects to make a little extra income. Because of my job at Citrix, I decided to stop Rosanii Design Company as a corporation and started ideaCollage instead. It gives me so much more flexibility as a freelancer, and having an LLC is much better for me right now. Feels good to get paid to do what ya love. If you don't know the feeling, I suggest you figure it out!
Saving money. Truly, I missed this concept entirely while in college. Now, I appreciate the value of a dollar. I SAVE!!! It's so fulfilling! Hopefully I'll be able to buy my own place next year. A townhouse would be nice. Not into the renting thing…not rushing to move out da house at all. I'd rather save and make the right move at the right time. :)
Finding time for myself and my fam/friends. I'm a workaholic as everyone knows. But I don't want to miss out on the things that are much more important… The people in my life. I'm keeping in touch with old friends, making phone calls, random visits. My network is extremely important to me. If you're in my life, I love ya!
Really, for my 25th year, my #1 goal is to continue to become a better person for myself and the world. I have huge plans and ideas…I just need to take it one day at a time and make progress slowly but surely. I'm excited! :D
So there ya have it. This is me, people. Thanks to all who helped make my birthday beautiful! :party: