In the springtime, I started thinking about which countries I wanted to visit during the year. After falling in love with Japan after my visit there in April, I knew that I wanted to explore more of Asia. Thailand has long been a desired destination of mine and I've heard such wonderful things about Indonesia, Bali in particular. It wasn't long before my friend Enitan and I had our flights and hotels booked around March in anticipation of our 9-day Thanksgiving vacation.
Since traveling to Thailand would be the longest flight I'd yet take, I did research so I'd be well prepared to handle the longest of the two flights there, 13 hours. The day before my flight, I went to see my chiropractor (who I've been seeing every two weeks for a couple months to get my back readjusted). He showed me a few stretches to do on the plane. I had a midnight flight on a Thursday night (a week before Thanksgiving) and forced myself to stay awake the first few hours and then I slept the rest of the flight to get my body on a schedule closer to that of Thailand (which is 15 hours ahead of California). To get me through the first few hours, I played Zelda on my 3DS. :) Then I took naps here and there, forcing myself to get up and walk around the back of the plane and do stretches every two hours or so until I fell asleep for a solid 6 hours at the end of the flight. I sat in the last row of the plane in a window seat that had only one person in the section of the row I was in, which worked out well. Since I was all the way in the back of the plane, getting up to stretch in the roomy area at the back was perfect for me. I constantly drank water to stay hydrated since jetlag is primarily caused by dehydration. I brought an empty bottle of water to the airport and refilled it several times until I landed in Thailand. I also wore an eye mask to help me sleep and a face mask that covered my nose and mouth (a trick I learned in Japan) to avoid inhaling any germs from the countless people coughing and sneezing on the flight. The flight went by pretty quickly, with the only hiccup being the terrible turbulence that we experienced. It felt like something was grabbing the plane and shaking it from side to side in the sky. It was the scariest turbulence I've ever experienced.
I had a connection in Taiwan and then flew five hours to Bangkok to begin my vacation. Enitan was originally scheduled to be on the same flight as me but had to delay her trip until Monday because of a conference she couldn't miss. Luckily, I had a group of friends from Cornell who were in Thailand that same week so I hung out with them on the days I would've otherwise been alone. It worked out perfectly! Landing in Bangkok around 10 am, I nervously waited for my suitcase to appear on the baggage carousel. I only packed a small bookbag and a carry-on suitcase that I had planned to take on the plane with me, but China Airlines has a weight limit for carry-ons and I ended up having to check my bag. I've heard horror stories about people losing their luggage in random places so I was hesitant to check it but she gave me no choice. Luckily, my bag finally showed up on the carousel towards the end and I gleefully found my private driver to take me to my hotel, SO Sofitel Bangkok. Hiring a private driver was so convenient, allowing me to avoid the hassle of finding a taxi after 20 hours of traveling.
Upon arriving at the hotel, I was immediately greeted with friendly smiles and pleasant voices, which was a wonderful way to start my Saturday morning experience in Thailand. The service at Sofitel is incredible. I met with Josephine at the check-in counter and she asked me what kind of customizations I'd like in the room, from the number and size of the beds to the firmness of my pillows. Each floor of the hotel has a theme of one of their five elements: Water, Earth, Wood, Metal, and Fire. I got an Earth room. Before heading to my room, I was served their special welcome drink called the SO Magic drink, which is a beautiful concoction of lemongrass tea, butterfly pea juice, and lime juice (more about this drink later). The ingredients each arrive in a test tube, and the server mixes each ingredient one by one to show you the "magic" of the drink: the acid in the lemon juice reacts with the deep blue hue of the butterfly pea juice to turn the liquid a vivid purple color. The drink is delicately sweet and refreshing.
My first day in Thailand was more eventful than I expected. Since Enitan wasn't arriving until two nights later, I had a chance to hang out with my Cornell friends, most of who I hadn't seen in years. I unpacked a little, showered off 20 hours of traveling, and got ready to meet up with them at their hotel which was an 8-minute cab ride away. I forced myself to stay up the entire day so I wouldn't run into jet lag issues the next day. I caught a cab at the hotel and ran into my first ripoff experience in Thailand.
Being the researcher that I am, I knew that Bangkok cab drivers are notorious for ripping off tourists by charging them higher fares. The thing is, they never really rip you off by an obscene amount of money because everything in Thailand is so cheap. The cab I got into had a meter, but I couldn't see it because the driver had it covered with a baseball cap. Even though I asked him to use the meter, he played dumb and acted as if he didn't understand me, but as soon as I asked him how much it would cost to get to my friends' hotel, he had no issues understanding that when he replied, "200 baht". This is a little less than six dollars, so no big deal, but when I caught a cab back to my hotel later that night with a driver who used the meter (because I insisted he use it before I even got in the cab), it cost only 50 baht. Womp. I learned my lesson in practice even though I knew it before I got to the country. Sigh.
When I met up with my friends, all eight of us took two taxis to a popular weekend market called Chatuchak, known for selling street food, souvenirs, clothing, bags, accessories, and even home decor. While on the way to the market, our taxi driver tried to hustle us. Before we got into the cabs, we were told it would cost 200 baht to get to the market. Once we were in the car and a good five minutes into the drive, he tried to change the price by saying that it would only cost ฿200 if we let him make a stop at some random shop (that he probably gets a commission from for bringing tourists to), or ฿300 if we drove straight to the market. We all complained until he pulled over so we could talk to our friends in the other car. Their driver tried to pull the same stunt. After sternly telling the drivers that we were not interested in whatever destination they were trying to take us to, they took us to the market, still claiming that it would cost ฿300. Upon arrival, we gave each driver฿200 to their disapproval and went on our merry way. The thing about trying to hustle people, dear taxi drivers, is that you'd better be in the position to collect what you ask for and think you are going to get, otherwise you will get hustled right back! We were not the kind of tourists who were in the mood to be swindled that day. :) The whole taxi situation was starting to get on my nerves and it was hurting my otherwise amazing time in Thailand.
The market itself was an enjoyable experience. There were so many beautiful things to see, and I was tempted to get quite a bit of stuff but I knew that it wouldn't be wise to bulk up my suitcase on my very first day of the trip. Since collecting masks from around the world is a hobby of mine when I travel (an idea I stole from my mom, whose mask collection is insanely gorgeous), my only mission was to find a mask. Mom has been to Thailand but never got a mask at the time, so I picked up one for her but didn't find one that matched what I was looking for. I had previously researched traditional Thai masks and learned about Khon masks, which are used as part of the costumes of performers of Khon (โขน), Thailand's traditional dance drama that involves dancing, singing, and acting. Unfortunately, I didn't find one in the market. I mostly saw masks of different interpretations of the Buddha, so I got mom a pretty one made of dark wood and decided to hold out on purchasing one for myself until I found what I was looking for.
When we prepared to leave the market, I found a car that was willing to take us back to our hotels for the same ฿200 price. As soon as I prepared to get in the car, he immediately added, "But we make quick stop first." I told him that we did not want to make a stop, and he informed me that the price to go directly to the hotel would be ฿700! I looked at him like he was crazy and walked back to my friends. He shouted at me, "Okay! No stops! ฿500!", as if that would suddenly make me return to his car. I kept it moving. Not having it! Luckily, Uber exists in Bangkok so we requested one and got a good fare to get back home. From that moment on, every cab I took was either metered or a predetermined rate from an Uber driver (thank goodness that Uber is in Bangkok! What a time and money saver!).
I got back to my hotel just in time to start my private night tour. I met with my guide, Linky, and we headed to our first stop of the night: Park Society, the sky bar at the top of my hotel. We ordered some snacks (the olives were all I cared about; I love olives) and I had a delicious lychee and rose martini (vodka, lychee and rose syrup, sweet and sour mix: yum).
We ended our tour and headed back to my hotel, where Linky wished me well and gave me her Rama IX pin. I was touched that she gave it to me because it honors the late King of Thailand, Bhumibol Adulyadej, known as Rama IX. He passed away on October 13 of this year and the entire city of Bangkok had photos, flowers, and ornaments dedicated to his memory and legacy. It was awe-inspiring to see how much the Thai people love and respect their late king.
When I got back to the room, the hotel accidentally had chocolates and fruit sent to my room because they thought I was on my honeymoon. :) I called the front desk to tell them about the mistake and they apologized and let me keep the goodies. Chocolate was a great way to end my long first day in Thailand!
The next morning, I grabbed breakfast at the hotel's buffet and then took a metered taxi to my friends' hotel. This time, since the meter was running, I didn't get ripped off. Unfortunately, my driver did try to trick me into having him take me on a tour. He asked me what I had planned for the day and I told him we were going to the Grand Palace. "Grand Palace?" he said, looking back at me. I confirmed. "Oh, no, Grand Palace is closed all day today. I can take you around." I gave him a very serious look and replied, "sir, please do not lie to me. I know it is open until 3:30 pm. Please take me to my destination." He shut up for the rest of the trip. Unbelievable. I'd read about this, too: Bangkok taxi drivers who will lie to you and tell you that whatever you have planned is "closed" and then offer to take you somewhere else instead. It was so irritating.
Once I arrived at the hotel, my friends and I booked a driver for the day for only ฿2000. He had a spacious van that held all nine of us. The plan was to head to a local floating market called Taling Chan and then check out the Grand Palace. However, somehow the driver got confused when we told him we wanted to go to the floating market, and he took us to the more popular one instead, Damnoen Saduak. This floating market was an hour and a half away, and by the time we realized what was happening, we were too far away to turn back. We arrived at the market at 1 pm and knew that by the time we'd finish, we wouldn't make it to the Grand Palace before it closed. I had a tour to see the palace the next day, but my friends were leaving Bangkok in the morning so they wouldn't have a chance to see it.
Damnoen Saduak floating market turned out to be fun. We all loaded into two boats and cruised down the water to see the stalls on either side of the canal. The vendors sell everything from food and clothing to jewelry and souvenirs. Bargaining is a big part of the experience. I was very excited to find a stall that had khon masks! I purchased a monkey mask. The monkey is the most popular character in Khon performance art. I also saw the cutest lemur and wanted to take a picture with him, but his owner was charging too much money. Hustlers everywhere, I tell you.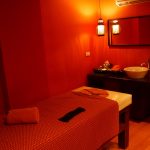 After the floating market, we went to Wat Pho and saw the stunning and huge Reclining Buddha. After exploring, we grabbed food at a yummy spot called S&P. I got a refreshing watermelon slushie and the delicious Holy Basil Fried Rice with Chicken. We wrapped up the night with massages at Health Land Spa Sathorn (located here). Some of us got a Thai massage, which I wasn't mentally prepared for because I had heard how rough and intense it could be. I got a standard 90-minute oil massage, which was great. It was definitely more intimate than I expected: I wore only a tiny pair of underwear made of stockings material and my masseuse basically pulled it all the way down and tapped my butt in weird ways when she was massaging my lower back area. I'm not complaining, though, it was great! :) Afterward, I headed back to my hotel.
We made a couple soup dishes, one of them made with a delicious green curry that we made from scratch. We also made a dessert called Bue Loy, which are rice balls in sweet coconut milk. I didn't love the dessert; it reminded me of soggy cereal in milk, but it was delicate and interesting. My favorite dish that we made that day was Pad Thai, a delicious stir-fried rice noodle dish that is typically served as street food in Thailand. Here is Bui's recipe.
Later that evening, we went to a lady boy show. Lady boys, known locally in Thailand as katoey, can refer to either a transgender woman or an effeminate gay male. The hour-long show was very entertaining, with dozens of lady boys dressed in beautiful gowns singing and dancing to classic songs and popular music. One very tan lady boy got on stage and performed the entire choreography for Beyoncé's popular Single Ladies music video. Another performed Madonna's Vogue, and yet another performed Aqua's Barbie Girl. The show really was fabulous. At the end, the lady boys lined up for photo opportunities. I got a photo with one and he was disappointed to learn that I had no cash to pay him for the photo (I didn't realize I had to pay; oops! He was dramatically upset with me).
On Wednesday, we walked a few minutes down the road to Karon beach. We relaxed on the warm sand and went parasailing, which I'd never done before. It was fun and gave us breathtaking views of the island. I also got a photo with a lemur! :) It started pouring on our way back to the hotel but this was the only time we encountered rain on the island.
Since we enjoyed our cooking class so much the day before, we headed back to Bui's place for another session. We were excited to make sticky rice with mango. Before we arrived, Bui had washed and soaked 1 cup of sticky rice in water for a couple hours. She showed us the difference between sticky rice and jasmine rice: sticky rice is much tougher than jasmine rice, and a more opaque white color. The rice was then put into a bamboo steamer (a bamboo basket that is placed over a pot of simmering water) and steamed for 15 to 20 minutes. In a separate pot, 1 cup of coconut milk, 2 to 3 tablespoons of white sugar, and 1/2 teaspoon of salt are mixed together over low heat until the sugar is completely dissolved. The liquid is then removed from the heat. Once the rice is ready, it is put into a bowl and most of the sweet coconut milk is pour over it and lightly stirred in. The rice is left to cool for about 15 minutes. We peeled two sweet mangos and served the fruit alongside the sticky rice, drizzling the remaining sweet coconut milk over the rice for extra sauce and yumminess. Deeeeelicious! I can't wait to make this dish at home. I bought sticky rice in Thailand just so I can make the real deal. :)
We also learned how to make Green Papaya Salad (Som Tam). We didn't have all the ingredients on hand to make it, but even with just the papaya, peanuts, and sauce, the salad was still tasty. Here is my slightly modified version of Bui's recipe.
Bui also showed us how to make lemongrass tea, which was very simple. She smashed two stalks of lemongrass to release its oils and flavor and then tied them into knots. She placed them into boiling water for a few minutes and then mixed the tea with some sugar in our mugs. It wasn't as yummy as the butterfly pea tea from the day before, but it was still tasty.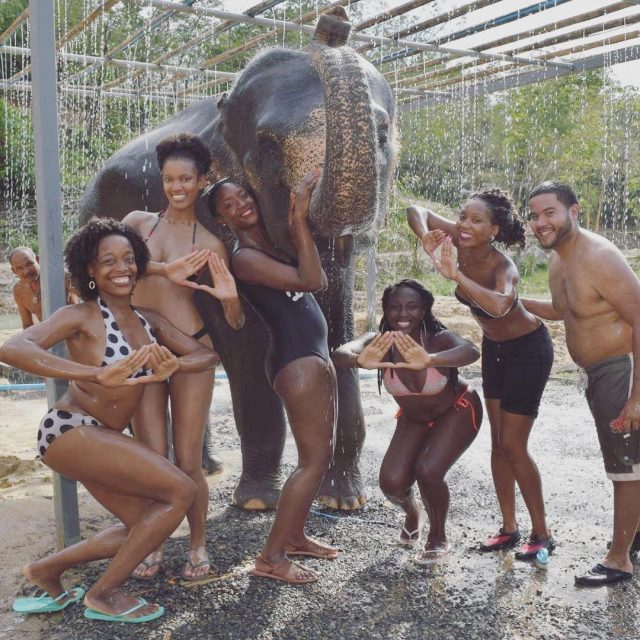 After getting back to the hotel to freshen up, Enitan and I briefly checked out Bangla Road in Patong. The area is a long blocked off street that turns into a mini Las Vegas at night, with hundreds of people hanging out at bars and clubs and lots of hostesses trying to talk you into a drink deal or a ping pong show (yikes). I'm a bit over the whole Vegas-type scene so we stayed only for ten minutes to see what the hype was about and then left, taking a ride back to the hotel in a party tuk-tuk equipped with loud speakers blasting hip hop music. Our last day in Phuket was an awesome way to end our time in Thailand.
Overall, my trip to Thailand was one filled with scents of lemongrass, lingering tastes of butterfly pea flowers and green curries, sounds of Sawasdee, and images of warm smiles and beautiful temples. It was excellent exposure to a new culture, finished off with a small dose of lessons in hustling. Phuket made up for the rougher edges of Bangkok. The people were kind, the food delicious, and the scenery breathtaking. The bottom line: I would definitely visit Thailand again, but probably not Bangkok. Enitan and I were ready and eager for the second and final part of our trip: Indonesia!
To read about my trip to Indonesia, click here.