Title: March 2009: The New Yorkers Visit Florida
Location: Fort Lauderdale, Florida
Description: Keri, Alana and Jonai spend their vacation with me in sunny Florida
Start Date: 2009-03-19
End Date: 2009-03-24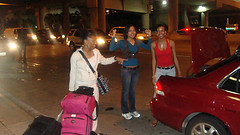 Thursday, March 19, 2009, 10:09 pm: Plantation, FL: Home
The girls have arrived!!!!!!! :) I just picked up Keri, Alana, and Jonai from Fort Lauderdale Airport and here we are, at my house relaxing before we make our first outing. Getting all their luggage into my car was interesting; leave it to me to forget to take two large boxes out my car before going to the airport. lol. But i managed to get them and their suitcases safely home. :) We're planning to go to at party called Panegea at the Seminole Hard Rock & Casino tonight. We are about to get ready, so I'll be back later!
Friday, March 20, 2009, 5:11 am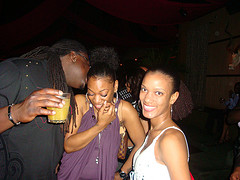 Okay, so we're back from the party! It was my first time there, and it was a nice party scene. There was a mixed crowd, which I'm not really used to, but I still enjoyed myself. I ran into a friend of mine, Chris, while there and also saw a T-Pain look-alike who bought us all drinks and kept trying to talk to Jonai. Hahah it was hilarious! After the party, these international dudes from some random country tried talking to us. One of them fell in love with Alana and kept calling her Beyonce, while another was trying to woo Keri with all the money he supposedly has. Comedy! Not the best of parties tonight, but we have plenty more time to have fun. In the meantime… BED!
Friday, March 20, 2009, 10:31 pm
Hello again! We had a pretty light day. We went to Broward Mall to do some shopping. We got some outfits to wear out this weekend. I ran in to my friend Chris again, who told us about a club on south beach tonight that we may go to. After the mall, I went to my nail salon to put on fake eyelashes for the first time…They actually look pretty sexy, although I don't think I will put them on again… they are kind of irritating. Jonai says that's how they are the first time you get em, but I'm a bit skeptical. lol. But in the meantime, I'll wear 'em 'cause my eyes do look nice. :) We are relaxing at the house now. We've decided to go to the party on south beach at The 5th, so that's the plan for tonight. Resting for now!
Saturday, March 21, 2009, 7:49 am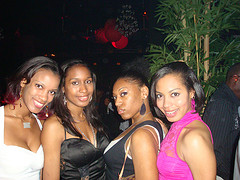 So we made it to south beach and back safely. When we got there, there was a crazy line outside, but we finally were able to get in even though the dude told us there was a $40 cover charge. Alana, thankfully, lied to the cashier once we got inside and told her that the guy said it was $20 for us. She believed us so we saved money, hehe. The club was PACKED, which was annoying at first, but it finally spaced out a bit so we had a good time. We saw Chris there with his friends and I ran into an old friend of mine, Jamal. He bought me and my girls a round of champagne, so I wasn't complaining. There were a lot of celebrities (mostly random people) in the club, and Alana and Jonai got pictures with the singer Lloyd. Alana actually met someone tonight, a guy named Paris, who seems to be very into her.
We headed home after the party and my boy Ryan brought his friends over to my house to hang out. He and his 8 friends chilled with us in my basement, and his friend Joe played the keyboard for us. He plays SO well! All of Ryan's friends were very cool. I only knew one of them from before (I actually think he's cute but was too shy to say anything). We were down there for a couple hours until we all got too tired to function. And here I am, the sun shining outside and all… ready for bed!
Saturday, March 21, 2009, 11:22 pm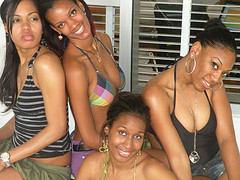 What a LONG day, and it's not even over. We went to south beach today (again). There was supposed to be a pool party at a hotel down there, but it got cancelled so we ended up having a photo shoot outside the hotel, lol. We took SO MANY PICTURES! Then we went to meet up with one of Jonai's friends at Ocean 10. It was so crowded there… Lots of drunk people making lots of noise. Music was playing and the food was yummy. After we left there, we came home to get ready for my Aunt's birthday party here at the house. That kept us busy for a few hours. The party is winding down now and we're going to get ready to go out again soon. There's a party on south beach (yup…going there AGAIN) at Dream Nightclub. One of Jonai's friends is coming to pick us up. I'll be back. :)
Sunday, March 22, 2009, 5:08 am
Okay, so Dream was something else. First of all, the line to get in was a mess. The bouncer was so money hungry!!! But finally we got in and then ran into Jamal again, who got us into V.I.P. and bought us drinks. At that point, it was more fun. It was VERY packed but we managed to enjoy ourselves. More celebs were there that night. My friend Paul from College Hill was there, as well as Keisha Knight-Pulliam, Young Jeezy, LaToya Luckett, Day 26 and Tigga from BET. Tigga actually ended up dancing with us for a little bit which was cool. Now we are back home, ready for bed!
Sunday, March 22, 2009, 11:31 pm

Another long day. I took the eyelashes off this morning because they were getting more and more annoying. What a RELIEF that they are off! I'll never put em on again! We stopped by my Aunt Lorna's house for a little bit before heading to South Beach AGAIN. It was a bit cloudy but we went on the beach anyway and took a bunch of pictures (what we do best!). We saw these two guys in superhero briefs, chasing people with a bottle of coke, lol. Random and funny. Then it started drizzling for a few minutes but it finally stopped. We walked along Ocean Drive for a bit and ran into some Ques that I know from Miami. Then we went to Wet Willies, which I'd never been to. We ended up staying there for a while because Paris came to take Alana on a date (how cute!). Wet Willies is a cool place; it was very packed and they have these yummy slushies. We met some interesting people while there too.
After that, we headed home, which brings me here. We're rushing to get ready again though because we are going to a reggae party for my friend Kurt's birthday. *sigh* so much going on! I'll be back…
Monday, March 23, 2009, 7:49 am
Okay, the reggae party, Swigs, was so empty! But my friends and my boys Jason and Kurt made it as fun as possible. We chilled there for a little bit and Kurt got sick (hmmm, I wonder why?!). We went to IHOP afterwards for some food but got it to go so Kurt could get home. Me and the girls came back home and ate the food, and got syrup EVERYwhere! Ryan came over again with some of his friends (the cute one that I like included :) ). We chilled in my room for a lil bit until we decided it was bedtime…early hours of the morning yet again! Oh, and I finally got enough courage to give Ryan's cute friend my number. Hehe :)
Tuesday, March 24, 2009, 9:02 pm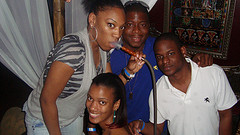 Monday was a light day. We went to Boomer's to race goKarts with Jason and Kurt. After, we went to TGIF and Paris came to see Alana. Then we went to a bar/club in downtown Fort Lauderdale called Off The Hookah. The lounge is so nice! They had beds and couches, and we had our own hookah set up. It's this thing that lets you inhale flavored smoke through a pipe. We left there around 3 am and went home.
Today, we just went through over 1,000 pictures from the weekend (crazy amount of pics, I know!) and deleted the ones we didn't want. I just dropped them off at the airport and miss them already. :( I must say, I haven't had that much fun in a LONG time and am so glad they came. I also haven't been to south beach that many times in one weekend, or even in a year! I can't wait till their next trip. :) But in the meantime… I'm going to catch up on SLEEP!