So, I know the details for my vegas trip are a week overdue. But yeah, in a nutshell, it was pretty darn great! It started off rough…My first day there was spent waiting in line for TEN hours for the new iPhone. But I finally got it and I must say, it was well worth the wait. I've never loved a cell phone so much in my life. Even the first one that I had, the 3G, wasn't as exciting to own as this one, perhaps in part because I got that model a year after its release so the hype wasn't at its ultimate peak. But this phone right here…sigh. Can't stop using it!
That night, I played some poker (of course). Lost, unfortunately, to some wicked hands…My Ace Queen hit a queen on the flop and lost in a showdown to well played pocket Kings. Need I say more?
Friday, I lost yet again at the Bellagio…My pocket 8s crushed by Ace King…naturally, the sucker hit the ace on the river.
…Whatever.
The fam and I did get to see a Cirque de Soleil show that night, and it was pretty awesome. We saw Love, a Beatles inspired show. Can't go wrong with their music in almost any situation. I hung out with a friend of mine who was in Vegas at the time as well. We went to VooDoo at the top of the Rio and hung out for a bit. Spectacular view of Vegas from up there. We played at the Bellagio as well, where I FINALLY not only made my money back, but turned a nice profit too. This loose player raised to 12 in a 1/2 no limit game. I called with Ace 10 suited and hit an ace plus two diamonds on the flop. On the turn (a useless spade), he went all in and I called with a good amount of chips in the pot already and hit a beautiful 3 of diamonds on the river to complete my flush and crush his Ace Queen. FINALLY i sucked out on someone and made money!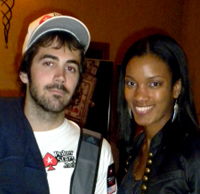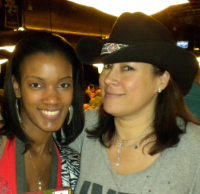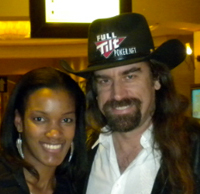 Luckily, the World Series of Poker events were going on so I got to see a lot of the world's best players in action. Notable players that I got a chance to meet are Jennifer Tilly, Chris Ferguson and Jason Mercier. Come to find out, Jason is from Ft. Lauderdale too. Wish I'd known that when I met him! I could have a local poker pro coach! lol
Sunday was our last night in Vegas. We had a 1am flight so we spent the night hanging out in the Rio. I played Roulette for the first time…Put $40 on red, doubled my money and LEFT! Other than poker excitement, it was a relaxing family vacation. I got plenty of rest and was able to actually process what Vegas has to offer, unlike last year's whirlwind of a trip. Didn't want to leave though. Can't wait to go back!!! :)