It was one evening in February while I was at home browsing the web when I received an email that would undoubtedly give me one of the best travel–if not life–experiences I've ever had. It was an amazing round trip fare from Los Angeles to Tokyo for $390. I remember the moment I got the email, and the immediate sense of excitement I felt just as my roommate, Stephen, came home to the sound of me squealing. I told him about the deal, and within an hour we had both booked our flights for a long weekend trip to Japan in April. We knew we couldn't pull off more than a few days there since we both have other big vacation plans for the year, but we couldn't miss this opportunity, especially since I'd never been to Asia.
The next couple months, I did what I do best: plan! I had an entire itinerary for our 3 full days in Japan: 72 hours, almost exactly, to do as much sightseeing in the beautiful country, with a focus on seeing the cherry blossoms that Japan is so well known for. So many of my friends said my roommate and I were crazy for going to Japan for such a short period of time. But they didn't realize how determined we were to make this trip an epic experience.
Here's how we did it.
The Research Phase
I spent countless hours researching the country before we arrived. I knew that I wanted the trip to primarily focus on culture, nature, and food, and I didn't want to do the typical tourist stuff. So I found things that were geared toward visiting parks, temples and shrines, and restaurants. I checked the weather weekly to see what we could realistically do, and I also tracked the cherry blossom season to see which area we'd have to visit to catch the blossoms in time. There are several websites that track the progress of the blossoms for each prefecture in Japan so you can plan a visit around a several-day window.
Since I knew well in advance that we'd have to travel somewhere significantly north of Tokyo in order to see the cherry blossoms, I looked into getting a JR Pass, which allows unlimited travel for 7 days across any JR-operated train. It costs approximately $250 and is SO worth the money! Good thing I found out about it before we went to Japan, since it turns out you can only order them outside of Japan. The pass is for tourists only.
I also read about things to do (always bow slightly to greet or thank someone; take gifts/purchases with two hands; walk on the left side) and not to do (don't eat while walking; don't cut line; don't speak too loudly in public). I felt fully prepared and extremely excited. Now, on to the fun part: our final itinerary!
Day of Departure
I can't remember the last time I anticipated a trip so much. And then, last week Wednesday, it was finally time to head to Japan! Our flight from LA to Tokyo was about 10 hours, and it was one of the roughest flights I've ever been on. Not so much because of the duration of the flight, but because I knew I had to force myself to stay up for most of it so we wouldn't be up all night when we landed at 10pm. We watched a couple of movies and did well in the beginning. I ended up taking a nap for an hour or two, which wasn't bad in the end. But staying up most of the flight definitely paid off so we could fall asleep when we got to the hotel.
When we landed in Tokyo Thursday night (Tokyo is 16 hours ahead of California this time of the year), it was raining. We went straight to our hotel, the Prince Park Tower Tokyo, located in Shiba Park directly in front of the Tokyo Tower. Our hotel was amazing. We got a 5 star experience for an insanely good price. The room was spacious, located toward the top of the building on the 31st floor, with a view of the Tokyo Tower. Little details like warmed toiled seats, bath robes and slippers, automatic control of the window drapes, and free drinks made a huge difference during our stay. The hotel had a beautiful sky lounge with a view of the Tokyo skyline, several restaurants, an onsen, and even a bowling alley. Best of all, the hotel is in a quiet part of town in beautiful Shiba Park. The service was also exceptionally good. Every single staff member was polite, helpful, and soft-spoken. Turns out, everyone we encountered in Japan was the same way. The Japanese are some of the nicest and most respectful people I've ever met.
After settling into our room, Stephen and I passed out around 11pm.  It was bound to be an early Friday morning.
Day One
…And indeed it was an early morning. We woke up around 4am the first time, and then every half an hour or so until around 6am when we simply couldn't force our minds to rest any longer. The one bad thing about that day was that I found out Prince passed away. I was still in bed, browsing emails on my phone, when I found out. :'( RIP to the legend!
After dragging ourselves out of our beds, we looked out at the beautiful Tokyo skyline and were pleased that the weather was looking to treat us well that day. The sun rises in Tokyo at 5am during this time of the year, so the sky was well lit and welcoming with a few lazy clouds hiding a warm sun. 70 degrees and perfect.
Our first order of business was to exchange our JR pass receipts for the passes themselves. We headed to Tokyo Station's travel office and got the passes just in time to catch our three hour train to Hirosaki, where we were heading to see cherry blossoms for the season. Since we were running late, Stephen ran to get some snacks for us while I got our passes. He got this pancake sandwich thing that was sooo good! It was literally two small pancakes with some sort of cream filling in between them. It was like an elevated version of a twinkie. :) Turns out every single snack and meal I had in Japan was delicious. The bullet train we took was very smooth, too. The seats were comfy and reclined very far back (if you know me well, you know I love my sleep!).
Before we knew it, we were in Hirosaki, a town known for its castle, cherry blossoms, and apples (Hirosaki is the largest producer of apples in Japan). As soon as we arrived at Hirosaki Park, the outside was decked with the first of over 2,500 cherry blossom trees we were about to see in the park. These blossoms were white with the faintest amount of pink. I literally jumped for joy when I saw them. I was emotional and relieved to finally own that moment, and I wasn't even in the park yet. This day was the one I was anticipating more than any other day of our trip. I was finally seeing Japanese cherry blossoms!
Cherry blossoms, or sakura as they are known in Japan, are flowers from one of my favorite flowering trees. They can be found in different parts of the world but are very popular in Japan. They bloom in the spring, starting around February in the southwest and spreading east toward the north until early May. They take about a week to bloom and last for another week until the blossoms fall off. From bud to blossom to ground, the entire process is notoriously beautiful and the season is revered by many in Japan for their fleeting beauty. Cherry blossoms are often thought to be a perfect metaphor for the ephemeral nature of life: our fragile and beautiful existence and a reminder of our mortality.
We entered the park and were surrounded by blossoms on all sides. Different shades of pink greeted us at every turn. The park was much bigger and more beautiful than I expected. Calm waters, pink trees, emerald grass, red bridges, and the beautiful Hirosaki Castle made the entire experience one I hope to never forget. We had an opportunity to walk inside the castle as well. The castle was actually moved 70 meters (the entire castle was lifted and then shifted over on wooden boards!) so construction could be done to repair the stone wall it once rested on. It was incredible to venture inside and get a photo in traditional gear.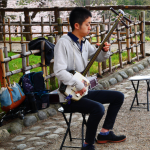 Outside of the castle, we saw a guy playing a shamisen, a three-stringed Japanese instrument that is played with a large plectrum. He was so calm and focused, often closing his eyes during parts of his song. It was incredible to watch, with Mount Iwaki to his right and Hirosaki Castle behind him on his left.
We tried some yummy teriyaki chicken and some sort of rice cake that had Japanese apricots (ume, from trees with plum blossoms, which are also popular in Japan) in the middle. They were like tiny little apricots with a sweet and slightly sour taste. I also tried Asahi, Japan's very own beer, for the first time. Yum!
Since it was cherry blossom season, there was a festival going on in the park, so hundreds of tourists, families, and school children were walking around and enjoying the sights, food, and entertainment. All around, there were areas dedicated to hanami, which is the Japanese word for picnicking under cherry blossom trees during the season. We sat in one area under the trees and I remember feeling so at peace and full of happiness for being able to participate in something I spent so much time researching. It was the perfect way to spend my first day in Japan.
On our way out of the park, we walked by a pond that had the prettiest duck I've ever seen. After some research, I found out it's a male mandarin duck. The females aren't as colorful (they are mostly gray/brown). Mandarin ducks are native to Japan and found in other parts of East Asia.
After spending hours in the park, we headed back to our hotel in Tokyo and got some rest for day two. :)
Day Two
We woke up early again on Saturday, around 6am, and after checking the weather and realizing it was too cloudy to make a trip to Mount Fuji like we originally planned, we decided to explore Tokyo. Stephen found a Starbucks nearby (turns out there are a lot all over Tokyo) so our plan was to make it there before heading to the train station. Since our hotel is located in Shiba Park, we walked through the park to get to the train station and stumbled upon the first shrine we'd see in Japan.
The shrine is Shiba Tōshō-gū, a Shinto shrine for the first Shōgun of the Tokugawa Shogunate, Tokugawa Ieyasu. This Shogunate held power Japan from 1600 until the Meiji Restoration in 1868 that gave power back to the emperor. Shoguns were military commanders from a particular hereditary line of descent who were de facto rulers of Japan, appointed power by the Emperor (more as a formality). The building was quietly tucked away in a corner up some steps, and we only happened to find it because we took a tiny path in that direction. It was beautiful, with red and white paint, green shutters, and gold accents on the roof. While there, we saw a Japanese couple waiting quietly at a tiny booth in the corner where a priest (I think) was stamping and signing some sort of book. Curious, I quickly pulled out my phone and googled "stamp book in shrine japan", which quickly informed me that what I was seeing is a temple stamp book (known as goshuin) that people use to collect stamps and calligraphy from different temples, shrines, and some natural sites in Japan. When you visit a place, a unique stamp that represents the location is placed on a fresh page in red ink and then the name of the place and the date you visited are written in calligraphy. It is rooted in a popular tradition of tracking where you've been as you travel the magical country.
When the couple collected their book, they bowed numerous times to thank the priest. He did not speak much English, but I held my hands together and opened them, palms up, to signal that I wanted a book like the one I just saw. "Oh!", he said, looking to a cabinet to his left where he pulled out a beautiful light pink book and showed it to me. With a large smile on my face, I nodded and pointed to a sample stamp page that he had on display to let him know which design I wanted. He then began his artwork on the first page of my book, and I watched in awe as his steady hand used a calligraphy brush to immortalize this shrine on yet another page. It was beautiful.
I thanked him by bowing and taking the book with two hands. I paid him 300 yen, which is the standard donation amount for the service rendered. The book cost 1000 yen (about 9 dollars). As we got ready to leave, he called out to us and said "gift!", handing us two small white amulet bags. I have yet to figure out what they mean, but they likely are a good luck charm of some sort. The bag is tightly closed with a string and I hear that it shouldn't be opened: to see what's inside would be to cause the amulet to lose its charm.
Because this was my first shrine visit, and since we found it so unexpectedly, and because I got my first Japanese temple stamp book there, this will forever be my most cherished shrine. What a way to start our day! After that, I was determined to get a stamp from every temple and shrine I'd visit. And I did. In the end, I collected 9 total (about half the book). The cool part is the book opens up accordion-style so you can view all the pages at once. I can't wait to go back to fill it up and get another book!
We walked around the park some more and found some other interesting buildings as well as a large Buddhist temple, San'en-zan Zōjō-ji. I got my second stamp here. :) We also lit incense outside the temple. As we exited the park, we saw a lady who was about to start a performance show with a little monkey. Of course, I got a picture with the little guy. :) Too cute!
Next, we found the Starbucks and had a quick breakfast. Then we headed to the train station to make our way to the famous Meiji Shrine, located in a huge evergreen forest in Shibuya. It is a Shinto shrine in honor of Emperor Meiji and his wife, Empress Shōken. The area was beautiful but very crowded. There was a wedding going on there which was cool to see. I collected stamp #3 and we were on our way.
Next up was the tourist-filled Senso-ji Temple (Asakusa Kannon Temple) located in Asakusa. It was insanely eye-catching but a little too gaudy for my taste. And there were tourists EVERYwhere! I got my 4th temple book stamp and then we walked around the popular shopping area on Nakamise Street, with alleys full of souvenir shops. I got a beautiful iron mask of okina, an old man with a long beard who represents wisdom. We also tried sakura (cherry blossom) ice cream which was delicious! If you've ever had something rose-flavored, it tastes similar to that: a bright, delicate, floral flavor that was just the right amount of sweet. Yummmm.
After shopping in the area, one thing I really wanted but couldn't find was some unique jewelry. I try to get at least one beautiful piece in each country I visit. I heard the Ginza area was great for shopping, so I did some research on my phone and found a small jewelry store located there that is owned by a Japanese family. So we headed to Atelier Shinji, a quaint little shop with bright green colors and beautiful gold and silver jewelry. I walked in and was immediately greeted by one of the owners and his wife. There was a small looking glass in one of the tables where I could look down directly into the workshop. The owner told me about the shop and the two collections. Their jewelry is beautiful, with themes that are authentically Japanese such as the cherry and plum blossom collections. I got a stunning gold cherry blossom ring and am seriously contemplating ordering a custom design from them online. Such a beautiful shop!
We walked around Ginza some more and then we waited for an hour for some delicious sushi and sashimi at a popular restaurant called Umegaoka Sushi. It was definitely worth the wait! The fish was delicate, smooth and so soft on your tongue. The tuna and salmon were incredible and I actually enjoyed the uni (sea urchin) for once. It was all like butter!
After dinner, we headed back to the hotel for a quick nap and then went to an expat bar called Geronimo's in Roppongi, a popular area for bars and clubs. It was a cool scene: a small bar with popular hip-hop and dance music. We ran in to someone who Stephen knows through a mutual friend and ended up hanging out with them all night. I drank Asahi, now my favorite beer. :) It was a fun night but nothing too crazy since we had to be up early the next morning for our last day in Japan. We headed back to the hotel and went up to the sky bar lounge to see beautiful night views to Tokyo before heading to bed.
Day Three
On Sunday, I was eager to hit the road and see more temples and shrines. I let Stephen sleep in and headed out into the chilly rainy weather around 7:30am to visit a shrine near a wisteria garden. By the time I got to the quiet area of town where the shrine was, the rain slowed to a light drizzle and the gray in the sky slowly shifted into a hazy blue. I turned a corner and found myself in front of the wisteria garden. There was a wisteria festival going on so there were a few vendors selling treats on the side of the road. In the back of the garden was the Kameido Tenjin Shrine, where I got my 5th stamp.
Wisteria is an absolutely beautiful flowering plant, a rich lavender color with soft, delicate petals that hang down from their trellises like grapes on a vine. The pond was a harmonious haven for birds, koi, and turtles. Strong trees with coffee-colored bark, branching out into the sky like onyx lightening with lush green leaves sprouting out from trunk to tips, guarded the wisteria and pond like they were royalty. A bright red bridge serviced any humans daring to disturb the scene, and innocent drops of rain fell to the earth in their feeble attempt to nourish a place so seemingly perfect and self-sufficient. The scene felt like a dream sequence: some sort of wisteria-filled utopia, a canvas of purples, reds, and greens that made my presence there one of my favorite moments in Japan.
After leaving the shrine, I went walking around the quiet town and saw a sweet old lady who smiled at me and let me take her picture while she picked beans from her plants. As I kept walking, I found another Buddhist temple, Komyoji, and got my 6th stamp. At this point, my phone decided to die on me (after only two hours, but I guess all the Google Maps loading I was doing strained my phone too much, sigh). I was stranded with no way to get back to the train station on my own and I refused to pay $45 for a cab back to the hotel. I found a gas station and a clerk nice enough to let me charge my phone for a few minutes on his charger. I had then enough juice to text Stephen my whereabouts and find my way back to the train station.
One interesting thing about the Japanese is how orderly they are. At the train stations, people always line up at the signs for where each door will open. Not only does this reduce chaos, it's also a sign of respecting those who were waiting for a train before you. It is completely opposite of any other train station I've seen in the world so far. Even walking up/down stairs and on the road is organized: always walk on the left! It is a brilliant thing, too, because it reduces the friction of bumping into people constantly like here in America. :)
I finally made my way back to the hotel and met up with Stephen. We packed, checked out, and left our bags with the hotel concierge and were on our way to our next exciting destination: Kamakura, a waterfront town an hour south of Tokyo. We took a train there and then a bus to the Hokokuji Temple (Zen Buddhism), known for its beautiful bamboo grove with over 2,000 green bamboo stalks. After getting my 7th stamp, we walked around the grove, admiring the seemingly infinitely tall stalks as they stretched to the clouds. Yet another slice of heaven on earth.
As we headed back to the main shopping street in Kamakura, we saw the Japanese symbol for a Buddhist temple on a side road and decided to take a look. All we could see was a staircase that led to another staircase, which seemed to lead to yet another staircase…But every step up took us to more beautiful views, until we reached a stunning moss staircase with two smaller staircases on either side that led up to the Sugimoto-dera Buddhist temple, one of the oldest temples in Kamakura. We had an opportunity to walk around the inside of the temple after taking our shoes off. It was so peaceful and colorful there and the place quickly became my favorite temple. I got my 8th stamp and we headed back down toward the main shopping area.
On the way, we saw some colorful koi fish in a stream below and a sweet mother allowed me to take a picture of her adorable toddler son.We then made it to our last shrine of the trip, Tsurugaoka Hachiman-gū. It is a Shinto shrine located in the back of a park area with ponds and bridges. There was a wedding going on here as well. Another thing they had that was beautiful was a large wooden shelf full of empty decorative sake barrels, or kazaridaru (when they are filled with rice wine–which is actually called nihonshu, not sake; sake just means alcohol–they are called sakedaru). These are usually found at Shinto shrines and are thought to bring people closer to god.
We explored the grounds some more before I got my 9th and final stamp and headed back to the main street to shop for more jewelry and souvenirs.
Afterwards, we headed back to Tokyo and went strolling along the busy roads of Harajuku to see the beautiful buildings and their colorful lights. We got pictures wearing the face masks that so many Japanese wear when they are sick to prevent others from getting sick (and I'm sure to prevent themselves from getting sick when in crowded public places).
We headed back to the hotel to grab our bags and some last-minute souvenirs and then were on our way back to the airport to end our 72 hours in this beautiful country. I learned so much about Japan and its people, and their way of life. We learned important little lessons along the way. For example, while on a train on our way back from Kamakura, Stephen and I had an empty seat between us where we had our things and a kind man approached us and told us, in his very best English, to hold our things and make space for others. As Americans, I think we are so used to taking up space and being as comfortable as possible, but we quickly learned in Japan how important it is to be considerate of others, especially in this situation where we needed to be mindful of others who may board the train in need of a seat.
There were other little lessons like this: we tried to skip a section of the Hirosaki Castle's top floor where people were lined up to look at old pictures of the castle. Not wanting to wait to see the pictures, we hopped over a divide to get to the exit and were politely told by a Japanese woman that it was not polite to cut the line. We didn't even think anything of it–we simply didn't want to look at the pictures–but having her mention it to us made us aware of how disrespectful our behavior must have appeared. Lessons like these really make me appreciate how kind and considerate Japanese people are, and what "bad training" we sometimes have as Americans.
I got some great souvenirs, my favorite being my temple stamp book. Other than some small gifts I got for coworkers, I got my mom and myself an okina mask. I recently decided to start collecting masks from all over the world and this is my second one (I got one in Jamaica this past January from a local artist). I got my best friend and myself beautiful kokeshi dolls that are hand-carved, polished, and painted. I also got two books in Japanese about cherry blossoms. I got a necklace and ring for my international jewelry collection. :) I plan to hang my amulet gift in my car and I have a small adorable wooden monkey whose meaning I have yet to decipher. Best of all, I have all these wonderful pictures as great reminders! I loved Japan so much that I think I'll get prints of my favorite pictures to replace some boring sea pictures I have in my living room. :) Coming home was bittersweet, but it felt good to reunite with my angel-dog Willow, and to paint in and pin my custom world map now that I've visited Japan!
I didn't have a single bad experience (other than simply not eating consistently enough and feeling like I was going to pass out twice from low blood sugar); every moment of this trip was enlightening, educational, humbling, and awe-inspiring. Stephen is also an amazing travel partner and I'm so thankful he was able to go with me. Yes, it was a quick 72 hours, but we saw and learned SO much. So to answer the question, "Would you do it all over again?": Absolutely. And I can't wait to go back and see even more.