I've been thinking a lot about the past year. Last summer, I took the first class in a series of five that will count towards a graduate certificate in Foundations in Computer Science at Stanford. Since then, I've taken a total of three classes, and I've learned so much. The program has invigorated my love for computer science and introduced me to a part of its world that I didn't even know existed: CS theory. My mind has never been so stimulated and curious. In addition to that, at the end of last year, I bought my first home here in San Jose with the help of my awesome parents. It's a townhouse that took all of my money but it's well worth it! It has been fun decorating it and making it feel like home. This year, I also decided to transition to natural hair, a process that requires me to slowly cut off my chemically straightened hair while I grow out my naturally curly hair. The last year has been one of many changes.
I'm a human 30 years in the making, and I recently turned 30 on July 18. The best way I could think to celebrate my birthday was by doing something that I enjoy more than almost anything: traveling the world! I planned a two week trip to Europe, stopping first in London, then venturing to Paris, and ending in Spain with visits to Ibiza and Barcelona.
London, England
I departed for London solo on July 11. Traveling around the world has been an interest of mine for a couple years now, and this was my first trip to Europe. The flight was a little over ten hours, and British Airways provided a comfortable experience. Landing in London, I found myself around a more diverse crowd than I expected to see. Heathrow Airport was extremely busy, and I had to take a train to get to my old roommate Jean's place in the middle of the city. Jean let me crash at his place while in London and also accompanied me to Paris. I hurt my toe by accidentally dropping my suitcase on it while dragging the bag up some stairs at the airport, but luckily this was the worst thing to happen on the trip despite London's dreary, cold, rainy weather. I also had the chance to hang out with one of my cousins who lives in London, Martin.
London overall was oddly charming, full of people with their unique styles and interesting accents (from prim and proper to heavy and downright incoherent). Even with three days full of gray skies, the city was still captivating. I saw Buckingham Palace, classic red telephone booths, Saint James's Park, the Rosetta Stone and other relics at the British Museum. We took a ride on the London Eye, the city's massive Ferris wheel off the River Thames. I had a love affair with Big Ben, a gorgeous gilded clock tower above the Palace of Westminster that shined even in the dull gray sky.
I'm always fascinated with the different personalities of nature as seen across the world. I saw some geese at St. James's Park and ran into some gorgeous flowers along the way. This one little goose that I met was walking around like he owned the place. :)
On my second day in England, Jean and I went to see Stonehenge, which was breathtakingly beautiful. That was actually the coldest day of my trip, but seeing the ancient stones was surreal and made enduring the chilly weather worth it. I'd always seen them in countless desktop wallpapers but to see them in person didn't even feel like a real experience. The stones are stunning, tall and sturdy and almost magical in their stance. It was one of my favorite experiences in England. We also visited Bath, an 18th-century town known for its Roman baths and honey-stoned buildings.
Paris, France
After exploring London, Jean and I went to Paris for three days. We took a Eurostar train to the city, and I instantly fell in love with Paris's charm. Even though I wasn't there with a significant other, the city still felt romantic. After checking into our boutique hotel, we grabbed some lunch and all I could see around me were Vespas and cigarettes. I knew that smoking was a popular trend in Europe, but wow, I didn't expect almost everyone to be smokers. It was suffocating and honestly was the only disappointing thing about Paris.
We visited Notre-Dame, a stunning medieval Catholic cathedral known for its French Gothic architecture. The outside is exquisite, but the inside is even more beautiful, with a sobering tranquility that permeated the building amongst the colorful stained glass and hundreds of flickering candles. We also went to Luxembourg Gardens and saw even glamorous varieties of flora.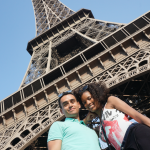 I met up with Jean later in the day (I had slept in that morning in typical Roz fashion haha) and we strolled along Avenue des Champs-Élysées, a popular boulevard lined with shops. At the end is the Arc de Triomphe, which was built in honor of Napoleon Bonaparte. Afterward, we went to see the Eiffel Tower. It is huge. I really didn't expect it to be that large in person. I can't say it is beautiful during the day because it really is just a large chunk of metal that takes up an obnoxious amount of space in my opinion, but it is iconic and quite spectacular to see at night when its warm yellow lights are glowing. Even better was unexpectedly seeing glittering white lights speckle the tower. There is a large lawn facing the tower where dozens of locals hang out, picnicking, drinking wine, and listening to music. We were there when the light show began, and it was easily my favorite moment in Paris.
On our last day in Paris, we visited the famous Louvre museum. I had a staring contest with the Mona Lisa, learning how surprisingly tiny she is in person. The museum itself is massive and gorgeous, with ornate ceilings that rival the beauty of many of the statues and art pieces themselves. It was the eve of my 30th birthday and I wanted to bring it in by doing something fun. Jean and I went to a Moulin Rouge show and it was, in one word, sexy! After the show, we went to a nearby nightclub and rang in my birthday listening to music I really didn't understand but fully enjoyed nonetheless.
Ibiza, Spain
On Saturday, the morning of my birthday, Jean headed back to London and I flew to Spain to meet my friend Tracy from Jamaica. Our first destination was Ibiza, a small island off the east coast of Spain that is known for its notorious nightlife scene. We strolled along the beach and grabbed drinks at a nearby bar before heading back to the hotel to take a nap before partying. It turns out we never woke up from our naps that night. We were both so tired that we slept right through the night of my birthday! I found it funny because we were at one of the world's best party destinations and didn't even go out on our first night there. I suppose it was a sign of maturity; after all, I had just turned 30! :)
The next two days in Ibiza we did spend partying, though! We went to two parties at Ushuaia to see Avicii and David Guetta play. The crowd was insane on both days, with hundreds of people enjoying the drinks and music. We had a good time, but the part of the trip I was looking most forward to was Barcelona, which was our final stop.
Barcelona, Spain
Barcelona is at the time of this writing my favorite city in the world. Beautiful weather, lots of culture, amazing food, kind people, and a romantic language all make a perfect combination in my book. We only spent three days there and I feel like I could live there. The city is so clean and well designed. Many of the streets have wide medians where people hang out throughout the night. Architecture is a big part of the city, and everywhere we went felt like it was carefully designed and overseen by an artistic eye.
We did some sightseeing around the city on our first couple days in Barcelona. My absolute favorite stop was our visit to La Sagrada Familia, the brainchild of talented Spanish architect Antoni Gaudí. While in France, I had thought that Notre-Dame Cathedral was the most beautiful building I'd ever seen, but walking into La Sagrada Familia changed that in a second. It is a huge Roman Catholic church that has been a work in progress since the mid-1800's, still currently under construction even years after Gaudí's death. In fact, the church won't be finished until around the year 2030. When it is finally completed, I'm hoping for the chance to see it again in all its glory because even during construction, it is mesmerizing.
The church looks like a living, breathing organism, with tall towers and decorative facades that each have their own personality. Inside, the building looks even more alive. Geometric shapes, curved surfaces, and vividly stained glass give the entire church an organic, natural feel. It is unlike any other building I've ever seen, both inside and out. While at the church, we went up one of the towers to get breathtaking views of the city. Gaudí also designed some other fascinating places, including Casa Batlló, a building that also has organic features including a colorful rooftop that looks like dragon scales. Park Güell is another fascinating place, a park full of creative buildings and elements featuring broken ceramic in a myriad of colors.
After seeing such amazing architecture, Tracy and I visited Camp Nou, FC Barcelona's football (soccer) stadium. We also saw a flamenco show that was intense and inspiring. Every move was fraught with emotion, every step a story of passion. Afterward, we checked out a nightclub on the beach called Opium.
Andorra la Vella, Andorra
On our last day in Spain, we took a day tour to Andorra, a tiny landlocked microstate sandwiched between France and Spain. On the way, we passed through Bagà, a small town on the northern side of Spain with a population of roughly 2,000. It was quiet and peaceful, with a different charm than Barcelona. Another stop we made was in Mont-Louis, a quaint little town in France where we enjoyed delicious croissants and hot chocolate. The scenery there was beautiful. We then arrived in Andorra la Vella, the capital of Andorra, a city surrounded by the Pyrenees mountains and known for tax-free shopping. I only bought one thing there, a sterling silver rose ring from a Pandora store. We did some exploring in the mountains as well and saw beautiful views of the city below.
Back in Barcelona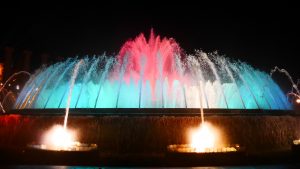 On our last night in Barcelona, we watched a light show at the Magic Fountain of Montjuïc, a beautiful way to end our time in Spain as well as my two-week vacation. I am so glad that my cousin Martin, my ex-roomie Jean, and my good friend Tracy were able to share the experience with me. Since returning home to California, I've given some thought to what it means to be 30. Honestly, I love being in this new decade of my life. After thinking about the last year or so, I feel like I've evolved into a much stronger, refined version of myself. I think back to what my 20's were like: chaotic, experimental, oftentimes borderline reckless. I remember being naive and insecure at times, making the wrong choices in the men I chose to date and not being sure about where my career would take me. Ever since moving to the Bay Area in 2011, I've felt much more focused and established, certain that design and programming are the destined themes of my career. I feel much more secure in myself as a woman, as a creative force, and as a global citizen. I've gotten better at choosing the people who are around me, and I'm not as selfish as I was in my younger years. I'm stronger, more confident, and have a deeper level of emotional intelligence than younger versions of me.
I definitely don't think I'm done maturing; in fact, it is my belief that maturity is a lifelong journey as we seek to better ourselves over time. It is the ultimate pursuit of an unachievable goal: to evolve into more intelligent, wise, and responsible human beings, striving for a perfection that can never be attained. Yet I've learned that it is not perfection or the desire to attain it that is important; it is the journey toward becoming a better person. We can never truly master ourselves because we are constantly changing. I once read something that was along these lines: life isn't about finding oneself; it is about creating oneself. I believe this wholeheartedly. We shouldn't be static creatures. Without a constant awareness of who we are and consistent action towards evolving into who we want to become, we remain frozen in time, never growing or moving forward. It is my life goal to stay true to who I am while remembering that my own truth changes over time as I strive towards becoming an even better human being—not a perfect one, simply one who is continuously better than the present one. In the meantime, I'll continue doing the things I love, like traveling! :) So here, I am, 30's! I'm ready to see all that you have to offer me during this thus far exciting and enlightening decade.